Although a lot of people at work still call me "Miss Teenager" because I do look like a kid from high school and I am one of the youngest people at work, I'm technically not a teenager anymore. I'm turning 25 in a few weeks, which means I'm totally an adult. However, I just can't stop watching teen TV shows! Hahahaha. Now that my favorite teen shows are on hiatus, I'm desperate to find a new one to binge-watch. I've been hearing a lot about Netflix's
13 Reasons Why
and The CW's
Riverdale
. Since I am in the mood for some murder mysteries and feel like I've been watching (and involved in hahaha) too much drama lately, I decided to watch the latter one first.
Source: imdb.com
Riverdale
is an American drama series that starts its first season earlier this year. It airs a new episode every Thursday (USA time, Friday in Indonesia) on The CW. The characters in this show are based on characters from
Archie Comics.
The story takes place in a small town called Riverdale and begins when the town gets startled by the mysterious death of its golden boy, Jason Blossom. After the news are spread, the main characters come back from their summer holiday with their own secrets and somehow get connected to Jason's death, which turns out to be a murder. The murder mystery is not the only thing that keeps the story going as some teen issues are also featured in it. So, as the creator describes it, this show is basically a mix of
Gossip Girl
and
Twin Peaks
.
So, I've seen the first two episodes of Riverdale and I am OBSESSED. The premise of the show is not new at all, (I personally think it's very similar to Freeform's Pretty Little Liars) but it is always fun to play detectives and try to find out who's the killer, right? Another aspect that makes Riverdale so addicting to me is the characters. The characters have strong personalities that are different from one another, which make each character very memorable and iconic. So, because I love the characters so much, I'm going to introduce you to my favorite ones.
1. Archie Andrews
Source: Heavy.com
Archibald "Archie" Andrews is a sophomore at Riverdale High School. At the beginning of the first season, he just comes back from his summer holiday, which is filled with construction work that he does for his dad's company. He comes back to his small town as a different person as he brings some secrets with him. The secrets include his affair with his music teacher, Miss Grundy, and some crucial information about Jason's death that he can't reveal without endangering himself. Archie is a long-time best friend of Betty Cooper, who is secretly in love with him. He also has complicated friendships with Jughead Jones and the new girl, Veronica Lodge. Archie is portrayed by KJ Apa.
Archie's status as a member of the school's football team and his physical appearance (Veronica once describes him as "the red-haired Ansel Elgort") will make you think he's the popular boy type, but based on what I've seen so far, he's so much more than that. He seems like a guy who always wants to do the right thing. I also like the fact that he struggles to express his real passion for music to other people because people don't expect that from someone like him, which makes him such a complex character. He's definitely relatable and likeable, and kind of cute as well hahaha. I feel a bit guilty for having a crush on Archie because he must be around sixteen right now and KJ, the actor, is only nineteen years old at the moment. So young! I feel old...
2. Betty Cooper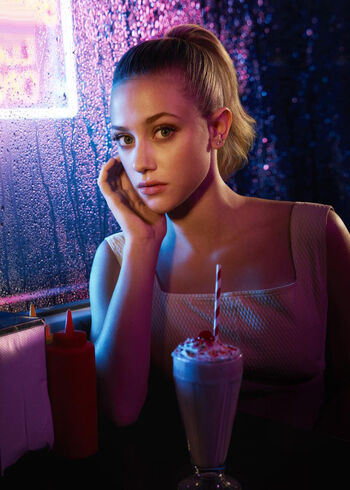 Source: riverdale.wikia.com
Elizabeth "Betty" Cooper is also a sophomore at Riverdale High School. She has been friends with Archie for a long time and secretly loves him. She is also friends with Kevin Keller, Veronica and, later this season, has a romantic relationship with Jughead. Betty has a sister named Polly, who is Jason Blossom's ex-girlfriend and currently lives in a group home due to a mental breakdown that she experiences after a toxic relationship with Jason. With Polly staying at the group home, Betty becomes the only child in her home. Betty's mother really pushes her to be perfect at every aspect in her life, which gets Betty frustrated sometimes. Based on what I've seen in the first two episodes, Betty seems to have problems with controlling her emotions as well. Betty is played by Lili Reinhart.
When I first saw Betty, I felt instantly connected to her. I can see a bit of myself in her. A girl who always tries to please everybody and be perfect at everything? Man, that is totally me, although I fail so many times hahaha. I can totally relate to what happens with Betty and Archie's friendship as well haha. Her controlling emotions issues are quite interesting. I have a feeling that, one day, she might explode and turn evil because she has kept all her feelings for herself for too long. Let's just see...
3. Veronica Lodge
Veronica is a new girl in town when we first meet her. She has just moved from New York to Riverdale with her mom after her rich father gets arrested for being a fraud. When she first arrives at Riverdale High School, she becomes friends with Betty, Archie and Kevin. Her relationship with Betty and Archie soon becomes complicated as Veronica and Archie seem to be attracted to one another, making Betty jealous. However, Veronica tries really hard to keep her new friendship with Betty. She tells Betty that she wants to be someone who is better than a rich bitch she used to be. Another interesting fact about Veronica is that her mom used to date Archie's dad, Fred, before she decided to "choose the rich kid", who is Veronica's dad. Camila Mendes plays Veronica in Riverdale.
"You wanted fire? Sorry, Cheryl Bombshell, my speciality is ice."
Source: Tumblr
Veronica seems like a very cool, badass girl. You can see how savage she is from the GIF above. That makes me like her a lot. It would be interesting to see more about her past, when she was the icy rich bitch like Cheryl Blossom (Jason's twin sister, we'll get to her soon). She is very stylish as well. She likes to wear fancy dresses, high heels and carry cute bags. Her black hair and eyebrows and her red lips make her stand out. Sometimes she reminds me of Blair Waldorf from Gossip Girl.
4. Jughead Jones
His real name is Forsythe Pendleton Jones III but his nickname is simply Jughead. Like all the main characters of the series, he goes to Riverdale High School as a sophomore. Jughead acts as the narrator of the series as he is also writing a novel about Jason's murder mystery. Jughead has been friends with Archie for a long time but, at the beginning of the series, their friendship seems like it's not in a good place. Probably because Archie has grown to be more like the popular boy type while Jughead is more like the loner, outsider type. I haven't seen the episode yet, but Jughead describes himself as a weirdo who doesn't fit in and doesn't want to fit in in one episode. Jughead is portrayed by Cole Sprouse. Yes, Cole Sprouse aka Cody from Disney's
The Suite Life of Zack and Cody
.

Source: www.hercampus.com
Jughead is probably the most talked about character from
Riverdale
. I've been hearing and seeing a lot of articles about him lately. Jughead reminds me of Stiles Stilinski from
Teen Wolf.
Like Stiles, Jughead is not the popular boy type, sarcastic and has a unique nickname. Jughead is a bit darker and weirder than Stiles, though. His weirdness and darkness might make it easy for people to have suspicion on him. We haven't seen a lot from him in the first two episodes, but, judging from his popularity among the fans, there will be more from Jughead in the next episodes.
5. Cheryl Blossom
Source: id.pinterest.com
Cheryl Blossom is the mean girl of the series. She's beautiful, stylish, rich, the captain of the cheerleader squad and, as Blair Waldorf used to say in Gossip Girl, the bitch around here in Riverdale. Cheryl is also the twin sister of Jason, the murder victim. Cheryl claims that, on the 4th of July, the day Jason went missing, they both went to the Sweetwater River for a boat ride. Before the Boy Scouts found her alone on the river's edge, Cheryl states that her glove fell into the water and Jason tried to take it back for her, but fell and drowned. Her story about her brother's tragedy makes Cheryl even more popular than before, and she, weirdly, seems to be enjoying it. Cheryl has a complicated relationship with Betty and her family, as their families have a dark history. Cheryl is played by Madelaine Petsch.
When I first saw Cheryl with Jason (who, I just realized, looks like a young Eddie Redmayne hahaha) in the first scene, I immediately screamed "Lydia!" because she looks a lot like Lydia Martin from Teen Wolf. I instantly hated her because she is just so mean and manipulative, but characters like this are always interesting to watch, eh? To me, Cheryl is the most suspicious character. I think she might be the one who killed Jason.
So, are you already a fan of Riverdale? Or maybe you're interested to start watching it now? Make sure you don't miss its new episode every Thursday (or, in my case, Friday)!